Kurdish Identity, Discourse, and New Media
 Sheyholislami, J.
Assistant Professor in the School of Linguistics and Language Studies
at Carleton University, Ontario, Canada.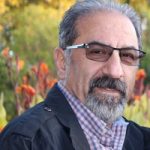 About author
Jaffer Sheyholislami (Kurdish: Jefer Shéxolíslamí, جعفر شێخ الیسلامی) was born in 1960 in the city of  Mahabad in Mukriyan Province. Currently (2009) he is Assistant Professor at the School of Linguistics and Language Studies, Carleton University, Ottawa, Canada. He teaches courses in the areas of applied linguistics and discourse analysis on a variety of topics such as language and power/ideology, sociology of language, research and practice in academic writing, and language and media. He earned his PhD in Communication at Carleton in 2008. His dissertation (Identity, Discourse and the Media: The Case of the Kurds) investigated the ways Kurds have used the Internet and satellite television to construct and reproduce a collective national identity. His main research interests lie with a critical understanding of language and other semiosis in social life. Currently, with Co-editors Dr. Amir Hassanpour and Dr. Tove Skutnabb-kangas, he is preparing an edited volume on Kurdish language with a focus on the social, political and legal aspects of the language and how these are intertwined with education and identity in Kurdistan. His other areas of research have included: critical discourse analysis of the representation of Kurds in the US and Canada (book chapter published), Iranian ethnic media and citizenship in Canada, the semiotic construction of Canadian national identity, the dialogic nature of blogging in educational settings, and the place of blogging in the construction of Kurdish imagined communities.
About this book
Informed by the interdisciplinary approach of Critical Discourse Analysis (CDA) and theories of identity, nation, and media, the study investigates the ways Kurds, the world's largest stateless nation, use satellite television and Internet to construct their identities. This book examines the complex interrelationships between ethno-national identities, discourses, and new media. Not only offers the first study of discursive constructions of Kurdish identity in the new media, this book also the first CDA informed comparative study of the contents of the two media. The study pushes the boundaries of the growing area of studies of identity, nationalism and transnationalism, discourse studies, minority language, and digital media.
Review of this book
"This study is long overdue. It provides a very lively survey of the making and unmaking of national identity in the context of unceasing conflicts between the Kurds, the states ruling over them, and regional and great powers involved in the region. Coherent, compelling, and creative, it pushes the boundaries of the growing area of studies of nationalism, communication technologies, and the internet by focusing on one of the most complex (trans)national cases, and demonstrating that the new media both unite and divide the nation. Well written and significant for its contribution to Kurdish studies and, thus, Middle Eastern studies." – Amir Hassanpour, Associate Professor, Department of Near & Middle Eastern Civilizations, University of Toronto, Canada
"Kurdish Identity, Discourse, and New Media sheds light on a unique, yet minimally explored area of research Kurdish studies offering useful contributions to disciplines such as cultural studies, conflict studies, and Middle Eastern studies. Being that the very notion of nationalism is thought by some scholars to be under attack in the age of globalization, Sheyholislami explores how technological innovations in this globalized world have the ability to foster a climate of unity and collectivity among fragmented groups. While many aspects of Kurdish identity were established prior to the introduction of media platforms such as satellite television and the Internet, the author explicates how media contribute to the further development and maintenance of these people. This particular study is unique in that it explores theoretical queries infrequently posited within nationalism literature." – Heather McIntosh, University of Ottawa, Canada in Global Media Journal
"The new communication media have increasingly affected global political and economic dynamics from democratization to terrorism and from economic development to conflict resolution. Jaffer Sheyholislami examines the ways Kurds have been using satellite television and the internet to construct their multiple identities as well as a pan-Kurdish identity. Jaffer Sheyholislami's book will be read with benefit by those interested in the importance of the new media for Kurdish national identity and what it obviously implies for others." – Michael M. Gunter, Tennessee Technical University, USA in Middle East Journal
"This book makes a major contribution to our understanding of the complex interrelationship between discourse, power and media technologies It provides invaluable insights into the field of Kurdish studies as it remarkably illustrates the interface between modern communication technologies, language and identity, and ways in which language and discourse function in the construction of Kurdish national identity." – Deniz Ekici, University of Arizona, USA in Critical Discourse Studies
This book available from below link:
https://www.palgrave.com/la/book/9780230109858